BHS Announces GCSE/IGCSE Exam Results
The Bermuda High School for Girls [BHS] announced its GCSE/IGCSE results for the academic year 2017/2018, saying they are proud of their students "hard work, commitment and determination to succeed."
A spokesperson said, "87% of all GCSE/IGCSE grades received by BHS students this year were A*-C. Top scorer, Katie Grainge, earned 11A* grades – an outstanding achievement!
"The percentage of A* and A grades earned by BHS girls was 40%, well above the 23% achieved by girls in the UK [Joint Council for Qualifications, 2018]. This highlights the value of a BHS education with teachers who have in-depth experience educating girls. The majority of our students sat 9 to 11 GCSE/IGCSE examinations.
Katie Grainge, Erin Jones, Natalie Calderon, Sierra Pacheco, and Gabriella Botelho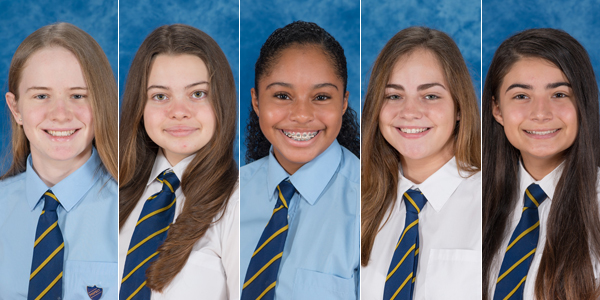 Other top students were as follows:
Erin Jones – 7A*, 3A, 1BNatalie Calderon – 6A*, 4A [including a Level 9 in Drama]Sierra Pacheco – 6A*, 3A, 1BGabriella Botelho – 5A*, 4A, 1B [including a Level 9 in Visual Arts]Maya Crockwell – 4A*, 3A, 1BJaiden Herbert – 3A*, 5A, 2BEmma Knights – 2A*, 6A, 2BAlexandra Quinn-Sirera – 2A*, 2A, 6B, 1CIannah Caines – 2A*, 2A, 6BAllison Dennis – 1A*, 5A, 2B, 1CTamia Burgess – 1A*, 3A, 5B, 1C [including a Level 8 in Visual Arts]Saxon Davis – 8A, 3BCerra Simmons – 8A, 2BAshlyn Lee – 6A, 4B, 1CNadhiri Simons-Worrell – 5A, 5B, 1CCree Dunn – 5A, 5BTaylor Hines – 5A, 4B
The Head of School, Mrs. Linda Parker, commented, "I am very proud of these excellent results, and particularly the high percentage of A* and A grades.
"All of our Year 11 students have balanced their rigorous workload with various extra-curricular activities, and we are proud of their hard work, commitment and determination to succeed.
"Appreciation is extended to our dedicated teachers who have encouraged, guided and challenged the students to reach their potential."


Related StoriesRead More About
#BermudaHighSchool #Education #GoodNews
Category: All
Read More